The Sunday Afternoons Story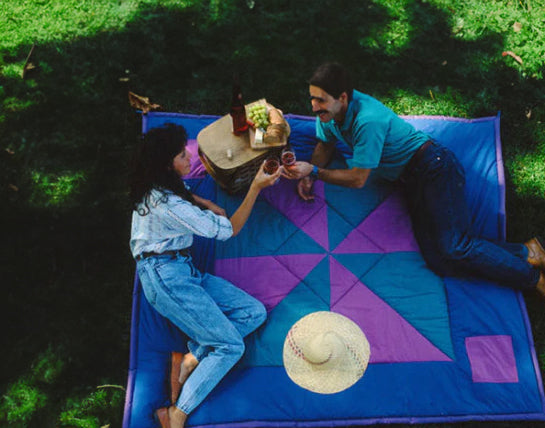 In 1990 Robbin and Angeline made their very first Adventure Blanket. This outdoor blanket was born from the desire to have a better surface for their young family's frequent outdoor outings. The blanket featured a waterproof bottom, water-resistant top, pockets, a carry sling, and of course, bright early nineties colors. Soon, friends of the couple who also had young families commissioned them to make Adventure blankets for them as well. With Sunday Afternoons being the time of the week that most families spent valuable moments together, the business was founded… and the name was chosen.
After many evenings cutting fabric on the living room floor (fabric was still cut on a piece by piece basis at this point), and sewing in a makeshift room from home, Robbin and Angeline became concerned about the pile of scrap fabric that was accumulating. Being ecologically minded, and having little extra money at the time, they brainstormed the best way to use these fabric pieces. Together, they came up with the Sundrizzle, a colour coordinated sun hat to sell along with the blankets. Little did they know, this would change the face of their company forever.
Sales of the hats took off at outdoor craft fairs where the couple were selling most of their Adventure Blankets at the time. Soon there was not nearly enough scrap fabric to keep up with the demand for hats. In addition to selling, Robbin and Angeline often found themselves taking notes about suggestions and desires for new styles, colours, and functional designs from those who lived and worked outside in the sun.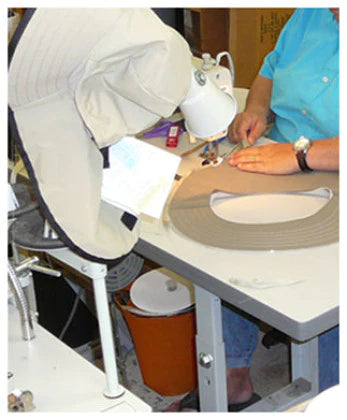 A big company shift occurred in 1996 when Angeline invented the Adventure Hat. It was sun protective, lightweight, technical, and proved to be the most innovative sun blocking headwear on the market. The Adventure Hat was subsequently patented and is still Sunday Afternoons' most recognisable product. Following this success, sun protection became the main theme of the company.
Adventure Hat
Sunday Afternoons is now a thriving company, designing and manufacturing high quality sun protective hats and clothing for our customers worldwide. Sunday Afternoons' growing line includes dermatologist approved sun protective hats aimed at every member of the family. We hope our customers follow our lead by enjoying the sunshine wisely, and playing it safe with full coverage hats, protective clothing and sunscreens. As Sunday Afternoons continues to evolve, its family of workers stay connected to their small-town roots, and commitment to friendly, one-on-one customer service and top quality products.